The clock is ticking, and the countdown is almost over. The crowdfunding craze is mere seconds away from reaching its finish line. And finally, the live campaign ended. Congratulations! You have survived the most difficult part, or have you?
After dancing your victory dance, it's time to keep your promise to the backers and organize the fulfillment and shipping of their rewards. That's right, today we'll be talking about Kickstarter pledge management. So buckle up.
What is Pledge Management?
In a nutshell, pledge management is the process of organizing the collection of data necessary to fulfill backers' rewards and arrange the shipping processes.
Let's start with the context, so you don't get confused. As a platform, Kickstarter allows creators to set up rewards with their quantities and present add-ons. Now where the rewards should be delivered, which color the backers want, and whether or not they want add-ons – all of these are taken care of after the campaign is over, either through Kickstarter's native survey tool or through a pledge management software.
Why Does It Exist?
Pledge management helps automate the process of collecting information from the backers in a single, straightforward process. And that process is a backer survey. After the crowdfunding campaign, creators set up their backer surveys to organize the production and shipping. A secondary but no less important reason pledge management exists is the ability to sell add-ons to your backers and raise additional funds for your campaign.
Whether you opt for Kickstarter's native survey tool or a third-party platform, there's no way to skip this stage. So it's essential to understand all its benefits.
Benefits of Pledge Managers for Project Creators
As we already mentioned, the primary purpose of a pledge manager is to collect necessary data on backers. However, most pledge management tools come with various services and features that creators can use to their advantage.
More Fundraising
We keep teasing about this but in reality, what numeric value does a Kickstarter pledge manager add to your campaign? Here's how. We calculated that, on average, pledge management platforms could add anywhere between 5-30% additional funds to your crowdfunding campaign.
Inclusion in Email Newsletters
Most Kickstarter pledge management platforms offer a feature in their weekly or monthly email blasts. As their audience includes mostly backers, among them repeat backers, these email blasts usually bring great results.
Allowing Backers to Upgrade or Add Other Products
A post-campaign survey is a perfect place and time for an upsell. The beauty of a Kickstarter pledge manager is that you can be flexible in your offers and design them in ways that will make backers upgrade to higher-tier rewards.
Get More Sales After Campaign Ends
Kickstarter campaigns last a maximum of 60 days. After your live campaign, you must either enter the retail market or continue crowdfunding via Indiegogo In-demand. However, if you're done with crowdfunding but aren't yet ready to enter e-commerce, pledge managers usually allow you to set up a pre-order page easily. It's a simple landing page with your rewards and SKUs.
Backer Satisfaction and Loyalty
Usually, pledge managers are very flexible compared to Kickstarter itself. Backers have more freedom over their "buying" experience as they get to add and remove items, choose add-ons and colors, change their initial order, etc. A good post-campaign survey experience increases backer satisfaction and helps build loyalty for future campaigns.
Popular Kickstarter Pledge Managers
The world of Kickstarter pledge management isn't that saturated. Of course, more than a few tools accomplish the same task, but the choices usually come down to these: BackerKit, PledgeBox, and Kickbooster.
We'll briefly cover all three and then show you how to set up your post-campaign survey using a Kickstarter pledge manager.
BackerKit
BackerKit is by far the most well-known name among all crowdfunding pledge managers. The company creates software that makes the lives of crowdfunding creators and backers much easier. The company is most famous for its Kickstarter pledge management. However, it also offers a range of marketing services and a recent rollout of its crowdfunding platform.
BackerKit pledge manager allows creators to tackle the survey creation, data collection, fulfillment, shipping organization, canceled pledges, upsells, etc.
BackerKit marketing includes their advertising services for live campaigns. None of the services are interconnected, which means that using one does not necessarily mean you have to use the rest.
BackerKit newsletter is an email blast to their 250,000 subscribers three times a week. The demand for their newsletter promotion is very high, which makes the selection criteria quite strict. Each campaign is viewed individually to determine whether or not it's a fit. Placement is not guaranteed to creators.
BackerKit's pledge manager charges an upfront percentage based on campaign size + a 3.5% commission from upsells.
PledgeBox
PledgeBox is another great platform to manage all your campaign pledges, upsell backers and organize shipping. Like BackerKit, PledgeBox goes beyond pledge management too, but in a bit of a different direction. PledgeBox came up with PledgeBoost – an affiliate link tracking system for crowdfunding campaigns.
Back to marketing services, though. PledgeBox, like BackerKit, also offers a paid newsletter feature, which campaigners can use to blast their campaign to thousands of repeat backers and raise more funds.
As crowdfunding is fast-paced and usually runs on a limited budget for campaign owners, it's beneficial when crowdfunding platforms, or pledge managers, offer more than one service.
Compared to BackerKit's pricing, PledgeBox only charges 3% from upsells, which is excellent for campaigners with limited budgets.
Kickbooster
Kickbooster is a popular name among everyone involved in the crowdfunding process – from backers to campaign owners. It has been known for many years as the go-to affiliate marketing solution for crowdfunding campaigns. But apart from affiliate marketing, it has also entered the race for pledge management.
Kickbooster's pledge manager is relatively new, but functionality-wise is pretty much the same as BackerKit and PledgeBox. In terms of pricing, Kickbooster is a bit different. They have a $500 activation fee for the pledge manager and a 3% commission from funds raised through the survey.
Setting up a Kickstarter Pledge Management for Your Project
After choosing the right Kickstarter pledge management platform for your campaign, you can start setting it up. Even though the whole setup and fulfillment preparations can be daunting, the interfaces of all three platforms are pretty straightforward. For easier navigation, we'll use BackerKit as a reference, but the process is very similar for all three. Now let's get right to it.
Connect or Import Your Campaign to BackerKit
Whether you're running a Kickstarter or Indiegogo live/In-demand campaign, it doesn't matter. You'll need to:
Log in to your BackerKit account.
Enter the URL of your crowdfunding campaign page in the corresponding field.
Check the "I'm the owner of this project" box.
BackerKit will start importing all the information from your campaign onto the platform – the campaign name, the amount of raised funds, images, rewards with their descriptions, etc.
After your campaign is successfully connected to BackerKit or another platform of your choice, it's time to start working on the post-campaign survey.
Creating the Post-campaign Survey
Once your campaign is imported, your next step should be creating all the items you plan to offer to your backers as add-ons, assigning SKUs and variations, setting shipping prices, and more.
Make sure to have high-resolution square images for all the items at hand.
Proceed with the steps of getting started and setting up items. If your product has variations, this is the time and place to mention it.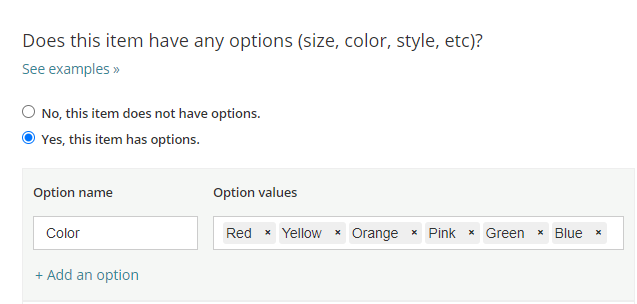 The platforms will automatically generate Stock Keeping Units (SKU) for items, which is very helpful unless you have already agreed on SKUs with your fulfillment house.
If the item you're adding is part of a Kickstarter reward, mention that. Also, check the respective box if you plan on offering that same item as an add-on.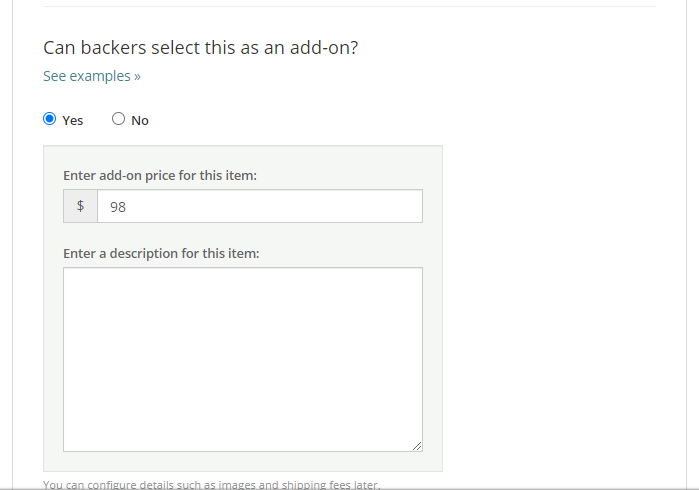 You can highlight the items you want to push more by marking them as "Creator's choice," which would work just like any e-commerce experience.
Sending the Survey, Setup Review, Smoke Test
When done with the entire setup of your survey, review everything carefully. Thankfully, there are multiple ways to ensure your survey is flawless.
Pledge management platforms offer a survey preview from a backer's POV, so you can test everything and make tweaks if needed before you send it to backers.
Another significant aspect is that you can send your survey for review by the platform itself, and you'll be informed if there's an error you missed.
Last but not least, once all the manual and automated review stages have gone successfully, you'll be able to smoke-test your survey. Pledge management platforms let you send the survey to 5% of your backers first. If the smoke test goes well and backers don't report any issues, you can send it to the rest of your community. If not, this is an excellent chance to fix the problems before it reaches a more significant percentage of your backers.
Backer Support
Your backers are most likely going to have a lot of questions. A massive benefit to BackerKit is that their team offers to handle 500 backer inquiries for free unless backer questions are directly about your campaign. In this case, the BackerKit team will transfer the inquiries to you.
This is a beneficial resource for a campaign manager who will be extremely busy juggling multiple things.
Kickstarter Pledge Management: Final Remarks
Understandably enough, crowdfunding is a very stressful and hectic process. From pre-launch to post-campaign activities and in-between, you, as a creator, will have a lot to cover. Luckily, crowdfunding pledge managers are great at taking some of the weight off your shoulders.
Regardless of which pledge management software you are choosing, the good thing is that all of them are geared towards helping creators.
To sum up, pledge managers are an excellent asset for any campaign. A pledge manager will let you easily upsell backers to higher-tier rewards, sell as many add-ons as possible, raise additional funds and tackle mass production more accessible. You get to organize your rewards fulfillment and shipping processes more smoothly, and you also get a chance to squeeze all the potential out of your product's crowdfunding promise.
If you're not yet ready to jump the e-commerce wagon right away, most pledge managers will let you set up a pre-order store to continue selling rewards and gather more backers. And when it comes to shipping, you've already done most of the job, so the pre-order store will automatically benefit from that.