[ad_1]

Introducing the Mobile Laptop Desk, an innovative way to take your laptop on the go and assure comfort wherever necessary to remain productive.
Has the need for an adequate workspace, anywhere, been a desire of yours? Look no further than the Mobile Laptop Desk, which aims to meet all needs on the go.
The design of this portable workstation provides a consumer with a Swiss Army knife accessory for their laptop that will leave the question "did I forget anything?" in the past. The inspiration comes from the innate desire to no longer have to remove everything from a portable bag just to set up and work. Everything is in eyesight to make working from home or on the go an easy hybrid setup, right in the palm of your hands.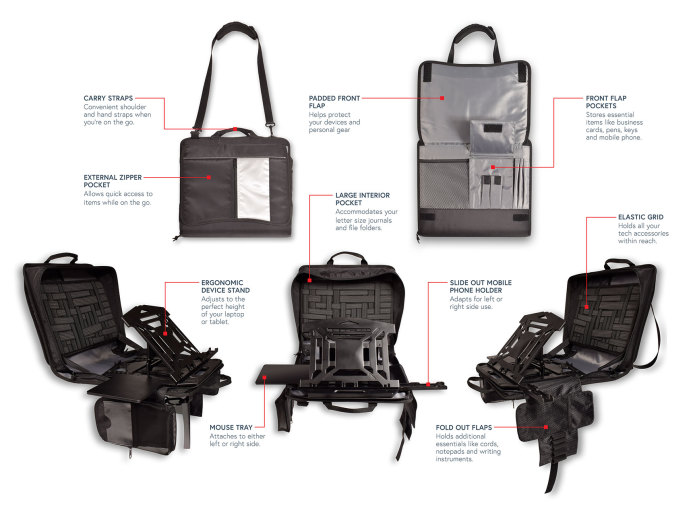 Deflecto, an innovative company that saw its first invention by founder C.P. Meyer release in 1960, has one goal in mind, to invent and produce products that are designed to make the everyday person's life easier. What this means for the consumer is a reliable company that has produced many office products over the years. Reliability is a nonissue here.
Starting as a 'Frankenstein' office project, the Director of Marketing & Product Management, Craig Malmloff kept at it, and the prototype swiftly entered development. The Mobile Laptop Desk was made for hybrid work. Consumer testing gave the product an "8+ out of 10" on its features. Referring to it as "a carrying case on steroids."
The notable features of the Mobile Laptop Desk are:
•    Large front pocket stores essential items like business cards, writing instruments, keys, and mobile phones.
•    Interior ergonomic adjustable stand allows for the perfect height for your laptop or ease of viewing for a tablet.
•    Slide-out mobile phone holder keeps your device at the ready. Easily attaches to the left or right side.
•    Large interior pocket and elastic grid hold all your tech accessories and keep them within reach. The large pocket can accommodate your letter-size journals and file folders as well.
•    Optional mouse tray attaches to either side for focused work.
•    Fold-out flaps hold additional essentials, from cords to notepads to writing instruments.
•    Easily transition from tabletop to lap work.
•    Adjustable shoulder strap, sturdy carrying handles, and metal zippers.
The Indiegogo crowdfunding campaign for this new innovative product is live now for early adopters who want to pay in advance for a discount.
All updates can be found on the Deflecto Twitter account.
[ad_2]

Read More:The Mobile Laptop Desk Creates a Solid Workspace Wherever Your PC Can Fit