[ad_1]

Sixty-three percent of tech startups fail in the first four years – the highest failure rate of any industry, believe it or not. 
Hold on, technology is the largest market in the world. Certainly dipping your toes in the tech sphere is a surefire way to guarantee business success… right?
Starting a company isn't easy, even in a mammoth market. Business is demanding, intimidating, and unpredictable. And just because your feet are off the ground doesn't guarantee you're in for smooth sailing.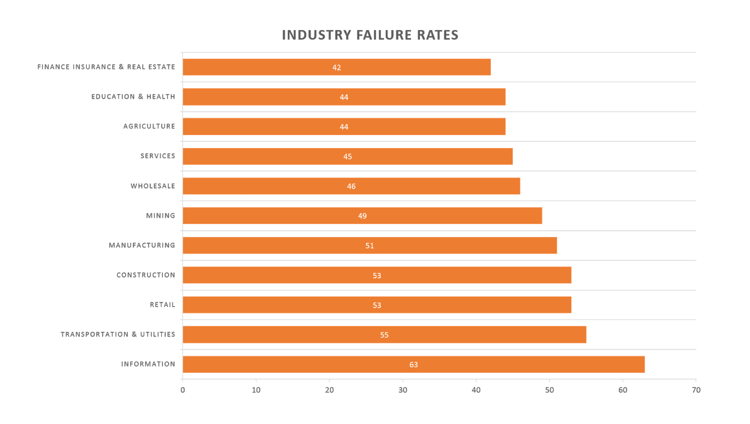 Source: Failory
But here's some more hopeful data worth reaching for: $1 billion valuation from nothing, 100% year-over-year growth, and number one software category leader. These numbers aren't just reserved for the once-in-a-lifetime venture. In fact, a good number of tech leaders are seeing numbers like this right now. 
G2's recent webinar, The CEO Consult, is chock-full of proven strategies from three of tech's most successful CEOs to help promising software ventures become the next "best of" unicorns in their space. 
In one hour, GoCardless' Hiroki Takeuchi, Chargebee's Krish Subramanian, and G2's own Godard Abel opened up about what worked, what didn't, and how they avoided that dreaded 63% failure rate in their collective 80+ years of entrepreneurship. 
Ready to take their advice and spin it into actionable items you can implement today? Below we'll break down, step-by-step, how to not only avoid becoming another failed startup statistic, but how to go beyond your product with customer-led growth to drive near-term victories and lasting, long-term success. 
How to start a tech company
In part one of this playbook, you will learn how to:
Create a customer-led growth strategy by tapping into user insights
Start a business by laying a foundation with product confidence and sufficient funding
Identify your target audience and determine their specific needs
Earning trust: Why you need to put your customers first
It's no secret that there is a crisis of trust between modern consumers and businesses. The never-ending news cycle, access to information (and misinformation), and changes in societal values have all influenced how buyers make purchasing decisions. 
On top of that, the massive shift to remote work and digital communication has made earning trust all the more difficult. So without the ability to have physical interactions with a salesperson, how are companies expected to gain buyers' trust? 
The answer is simple: let your customers do it for you using a customer-led growth strategy. 
80%
of businesses believe they are delivering a "superior" customer experience, yet only 8% of customers agree.
Source: Growth Sandwich
Product-led vs. customer-led growth
Product-led growth (PLG) is when acquisition, expansion, and retention are driven by a company's product. This means company-wide initiatives across all departments are centered around the product as the source of sustainable and scalable growth.
Take Slack, for example. As the fastest-growing SaaS company of all time, Slack grew from a $0 to $4 billion valuation in just four short years. Slack took a basic business need – internal communication – and created a product experience that put its competitors to shame. Their freemium growth strategy attracted potential users with free limited access, while the product experience ultimately encouraged upgrades.
Put simply, brands that drive a PLG strategy believe their product speaks for itself. These companies ultimately want prospective users to trial their product, usually for free, rather than immediately funneling them through a sales cycle. 
Customer-led growth (CLG), on the other hand, puts customer insights first. Companies utilize these insights to qualify and quantify the value of a customer. From there, brands can create and continuously improve upon their customer experience. 
Brands that implement a CLG strategy not only care about customer sentiment but also about how they can develop and produce a product that specifically addresses customer pain points and helps users reach expected outcomes. 
Domino's 2010 Pizza Turnaround campaign, driven by negative customer reviews, is a master class in CLG. Through this campaign, the company created a transparent line of communication with their customers and openly acknowledged critical comments that littered their online reviews, including "[my] pizza was cardboard" or "microwave pizza is far superior". 
Instead of quietly working on their product behind the scenes, Domino's concentrated on their customers' sentiment to directly tackle the problems at hand. Domino's was able to rescue their near-failing business by acknowledging their customers' negative feedback and resolving those issues openly. 
Customer-led growth strategies are all about collecting, ingesting, and sharing user experiences, to both improve the product and establish lasting trust with your market. And the only way to succeed with CLG is by understanding your users' values and using those insights to drive business operations.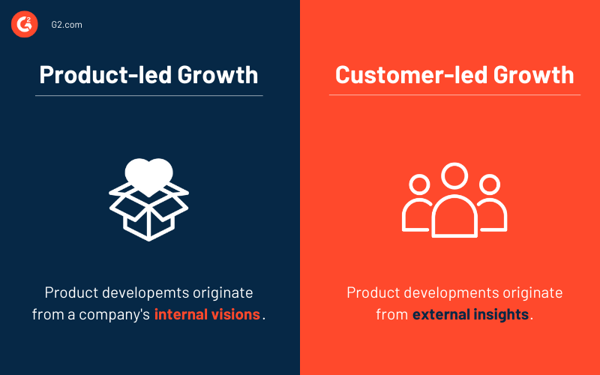 Why is customer-led growth the way of the future?  
Implementing a CLG strategy means you are providing value to your customer throughout the lifetime of the relationship. With CLG, you don't need to solely rely on the sales team to drive a growth strategy. You also don't need to hope that new product features alone will drive purchase upgrades (let's be honest, we've all signed up for the 7-day trial of HBO Max only to cancel without providing feedback as to why). 
Customer-led growth breaks the customer relationship down into stages based on the customers' success milestones rather than business metrics. Gaining clarity on and operationalizing how customers receive value and achieve goals with your product will inspire others to see how they could use your product to reach their own. 
Customer insights help product teams understand the features users care about most and help marketing teams learn the specific language customers use to talk about their pain points. These insights bring brands closer to their users so they can engage, retain, and help their customers succeed. 
Today's buyers don't trust easily. Your customers want to feel confident that your product will solve specific pain points and help them achieve their goals. A true CLG strategy considers the needs of the customer and ensures the product mirrors those sentiments. 
80%
of customers say the experience a business provides is just as important as the products or services they sell.
Source: Salesforce
Starting your business: How to lay a solid foundation
Entrepreneurs thrive in the what. As a visionary, you see opportunities to solve problems before most of us even know those problems exist. This unique lens on the world is your strong suit. However, most entrepreneurs fall short on tactically executing this vision – and the most common miss is timing.
Getting the idea right is only half the battle. If you fail at timing your idea might be too late, too soon, or (worst case scenario) stolen by another visionary who beat you to the punch. A lot is at risk when launching a business, and you should not only feel confident in your idea, but also prepared for the inevitable changes, setbacks, and failures to come. 
Entrepreneurship is not black and white. Hiroki Takeuchi explains: "For me, [there] are two very distinct questions: one is 'When are you ready to start?' and the other 'Is this idea the great one?'"  
"I don't think you necessarily need to have the 'perfect' idea to start a business. To a certain extent, it's about taking a leap of faith and saying 'I'm going on this path.'"

Hiroki Takeuchi
Co-founder and CEO, GoCardless
But some things are certain: you need a solid foundation to build your business upon – one that's strong enough to tackle challenges, but flexible enough to allow you to adapt. Below are the four things you need to complete before starting your business.
1. Define (and refine) your product
Whether your product is in development or yet to be created, you already have a handle on what you will be selling. Research what industry leaders are currently doing and learn about their pathway to success. Make note of things they do well and areas where they struggle (hint: this is your sweet spot).
Identify how your product differentiates from competitors and center your…
[ad_2]

Read More:The CEO Playbook Part 1: Starting a Business With Customer-Led Growth