[ad_1]

A dual-format auction of a physical and digital non-fungible token (NFT) version of a job application penned by Apple co-founder Steve Jobs has come to a close – and the physical side has emerged victorious, by an order of magnitude.
Set up by former ad exec Olly Joshi and launched last week, the auction took a physical piece of history – the 1973 handwritten job application, which Joshi purchased at auction earlier this year with money raised by a collective of 36 of his friends and family – ran it through a scanner and created a cryptographically verified NFT version on the Ethereum blockchain before listing the two side-by-side.
The idea was to pit NFTs, digital goods whose uniqueness comes from cryptographic signatures placed on a cryptocurrency blockchain but which are otherwise infinitely duplicable, against physical and genuinely unique goods – and to make a little money along the way.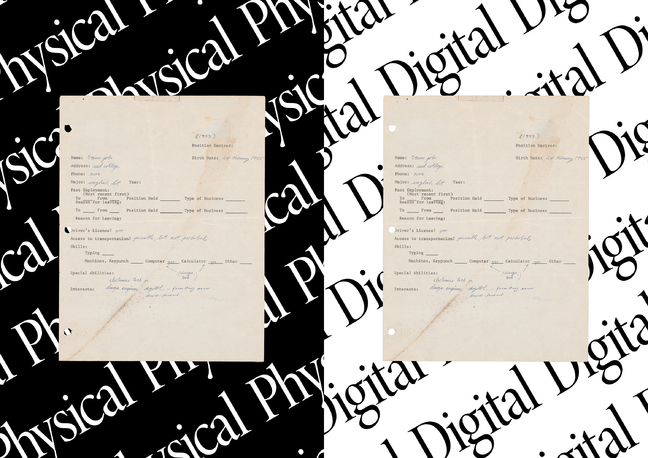 Physical/NFT Steve Jobs application
The auction has now closed, and in a twist surprising all involved – even those running the physical auction – the real thing attracted vastly more interest than the NFT, closing higher than its digital twin.
For Joshi, and the members of his collective, the $343,000 closing price for the physical lot is an impressive return for a few months' work. The job application was acquired at auction in March this year for $224,750, after selling in 2018 for $174,757 and in 2017 for just $18,750 – giving the collective's coffers a $118,250 boost even before funds from the sale of the NFT were added to the pot.
Predictions that the NFT would raise more money than the piece of paper, as with the work of digital artist Mike "Beeple" Winkelman which sold for a whopping $69m earlier this year, fell flat, however. "My gut says the NFT will attract the highest bid," Sarah Buchanan, director of auction software house Snoofa and host of the physical auction, told us when the auction went live, "but let's see."
Joshi told The Register:
What we've seen now the race has run is a gulf in final sale value between the genuinely one-of-a-kind physical artefact and the popped-it-into-a-scanner cryptographically unique but otherwise quickly duplicated NFT, which sold for $23,182.02 – a decent chunk of change for a JPEG, to be sure, but nowhere near the value placed on the physical lot.
Speaking to The Register ahead of the auction's opening, Joshi had downplayed concerns that the ability to easily make a digital copy of the physical lot and turn it into another NFT – or a million other NFTs – would push down the value. "Value is transferred once," he told us. "So we would be first to do it, therefore that [NFT] is the first one, and it will retain its value for that reason."
Bidders, clearly, disagreed.
In total, the auction raised $366,202.22 for Joshi and pals. A percentage of the profit will be distributed to One Laptop Per Child and the Cancer Research Institute – but Joshi has yet to quantify exactly what percentage that might be. Secondary sales of the NFT, tracked via Rarible which handled the digital side of the auction, will also generate a donation to both charities. ®
[ad_2]

Read More:NFT or not to NFT: Steve Jobs' first job application auction shows physically unique