Whether you're planning on launching an eCommerce start-up or looking to drive up your sales, you may want to get familiar with eCommerce fulfillment. This includes everything from shipping and storing inventory to processing and packaging orders. Fortunately, it's not as complex and daunting as it may seem. A little determination and a solid grasp of the practice can go a long way. Having said that, you probably want to understand what eCommerce fulfillment is.
What Is eCommerce Fulfillment?
eCommerce fulfillment is essentially the final stage of an eCommerce supply chain. It involves storing inventory, packing orders, and shipping them to the customer. These steps often entail the highest costs of the whole supply chain process. As such, a solid strategy is key for establishing a strong and efficient eCommerce business — whether you're processing orders from your apartment, a warehouse, or perhaps a third-party option.
Bear in mind that although eCommerce demand is on the rise, there hasn't been much of a change in customer expectations for fast fulfillment and delivery. Figuring out how these expectations impact brand equity and customer preference can allow you to stand out from your competition.
The Benefits of eCommerce Fulfillment Services
Among the main benefits of eCommerce is that it has the potential to boost the scalability of your business. If you can deliver your product to the appropriate customer, your sales can go through the roof overnight. Bear in mind that first impressions are everything. Without proper and timely delivery, you may risk disappointing new potential customers — which is quite hard to recover from.
Fortunately, you can always delegate eCommerce order fulfillment to a fulfillment service. In addition to allowing you to focus on growing your business, eCommerce fulfillment centers offer a range of benefits.
Saving Costs of Shipping
Shipping costs account for a large chunk of an eCommerce retailer's expenses. But by outsourcing this element to an eCommerce shipping fulfillment center, you can enjoy their discounted rates. It's worth mentioning that these services have a network of facilities that engage in bulk delivery, resulting in lower rates.
Taking Advantage of Superior Technology
eCommerce businesses have much to benefit from technology, whether it's for monitoring inventory, tracking orders, processing payments, or any other process step. However, these systems don't come cheap; and the learning curve is often steep. That being said, eCommerce fulfillment centers normally have access to state-of-the-art software that you can take advantage of.
Extending Your Reach
Statistics have shown that over 2 billion people in the world shop online. That's roughly 25 percent of the global population. Needless to say, it pays to go global. And considering that fulfillment services often have worldwide networks, you can extend your reach to a global level.
Freeing Up Your Space
Many eCommerce start-ups carry out their business in their basements, garages, or anywhere else where they can keep their supplies and products. This often results in a cluttered space full of packing material such as tape, boxes, and bubble wrap. eCommerce fulfillment centers take all that weight off your shoulders, allowing you to focus on other aspects of your business without turning your living spaces into a warehouse.
Lowering Your Operating Costs
Everything from renting a warehouse to hiring employees and carrying out your own shipping can leave a dent in your wallet. A fulfillment center allows you to cut these overhead costs and allocate your funds elsewhere; perhaps your branding could use an upgrade. In most cases, fulfillment services charge one flat fee, after which you only pay minimum rates when the center picks, packs, and ships an order.
How Does eCommerce Fulfillment Work?
While the exact methods might differ from company to company, the eCommerce fulfillment process is generally the same. The first step in eCommerce fulfillment involves accepting inventory and storing it at the warehouse. The next step is to check the products into the stock and place them on shelves where they will be ready for processing.
A key part of eCommerce fulfillment involves managing the inventory. This means maintaining a record of the products to keep up with what's out of stock and make replenishments when necessary. In addition to storage, this step is continuous and continues in the background. Inventory management also involves regularly checking the products for damage and replacing them if necessary.
The next step of eco-commerce fulfillment involves picking a new order by searching for the product in the warehouse (or multiple items from various parts of the warehouse). Then comes packing and adequately labeling the items. Should you be outsourcing fulfillment to a specialized center, make sure to inform them of any specific packaging you may have in mind. The final and most important step involves shipping the orders to your customers while keeping track of the logistics.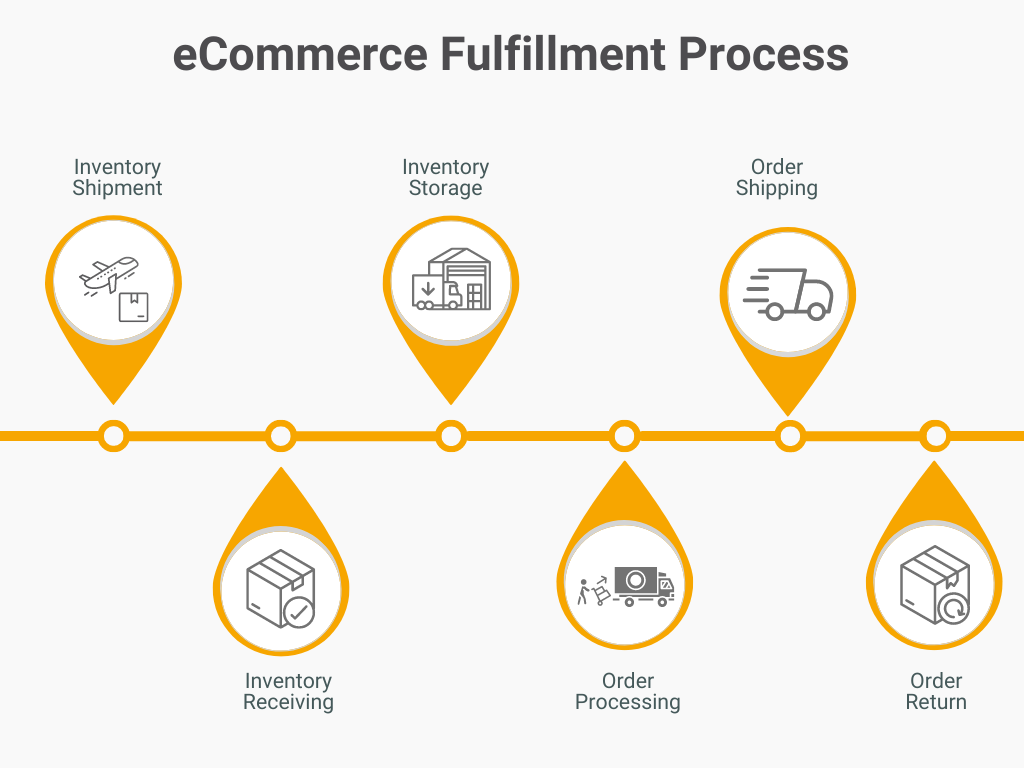 Process and Logistics
"What does eCommerce fulfillment do?" is a common question that comes to mind when looking to venture into the online retail business. To understand the answer, it can be a good idea to go through the steps and logistics of the order cycle.
Inventory Shipment and Receiving
Commonly known as receiving inventory, the first step of the fulfillment process is to ship the products to a distribution location. This can be anything from a warehouse to a fulfillment center to a storage location or perhaps your place of business. Should you work with a 3PL eCommerce fulfillment service, packing your products with the proper shipping material and clear labeling will speed up the inventory-receiving process.
Inventory Storage
Next, you have inventory storage. If you happen to opt for an in-house order fulfillment strategy, anything from a home garage to a basement can serve as a storage location. A warehouse might be necessary if you have a large inventory. To make inventory management easier, it's important for each item to have an SKU (stock-keeping unit) for assigning it to a certain storage spot.
Order Processing
Order processing starts once a customer makes a transaction. This step involves fetching the product from its storage place, packing it, and getting it ready for shipment.
Order Shipping
Once the package is ready to be delivered, the next step is shipping the order to your chosen carrier. It's worth noting that the terms shipping and fulfillment are sometimes used interchangeably. However, shipping refers to the actual step of transporting a product to the customer, while fulfillment involves receiving, processing, and delivering items in general — as well as the solutions you choose for doing so.
Returns Processing
It's not uncommon for an eCommerce retailer to expect returns every now and then. This is where returns processing comes in. It essentially involves handling returns, replacing defective items, and refunding customers. A recent survey has revealed that 75% of all returned items consist of clothing items, often due to wrong sizes.
The Difference Types of eCommerce Fulfillment Models
Online retail businesses can choose among different types of eCommerce fulfillment models. Understanding the choices available to you and their pros and cons can help you decide which best suits your business.
In-House Fulfillment
As the name suggests, in-house order fulfillment is when you carry out the order fulfillment operations using your own facilities, resources, and labor — without the help of a fulfillment provider. Determining whether this eCommerce fulfillment model is suitable for your business largely depends on your inventory size. If the operation you're running happens to be small (less than 100 items a month, for instance), in-house fulfillment is most likely your go-to choice.
Also referred to as in-store order fulfillment, in-house fulfillment is the easiest to execute and allows you to monitor the whole process. It is also the most budget-friendly in terms of start-up costs. Moreover, you'll have the creative freedom to choose your own unique touches regarding brand packaging, gift messaging, and personalizing orders for customers.
Some common reservations around in-house order fulfillment include limited labor, limited storage space, and no shipping discounts. This eCommerce fulfillment model is also known to be quite difficult to scale and can be rather time-consuming.
Dropshipping
Another strategy online retailers can choose is dropshipping. In this case, orders go from your website to your manufacturer, who is then responsible for picking, packing, and shipping the item directly to your customer on your behalf. This means you'll have nothing to do with purchasing, storing, and processing the inventory. All you need to do is sit back and relax while the supplier carries out the whole operation.
Unlike in-house order fulfillment, dropshipping is easy on the wallet regarding start-up costs. Moreover, it also has lower costs of inventory and order fulfillment. Another advantage is that the inventory is easy to update. And best of all, you only pay for the items you sell.
However, a major downside to dropshipping is that you'll have little control over handling and shipping orders. And if an item reaches the customer in a damaged state, for instance, you'll be the one dealing with poor reviews. Other disadvantages may include low-profit margins and short lead times.
Third-Party Logistics
Third-party logistics, also known as 3PL eCommerce fulfillment, is a strategy for eCommerce businesses that require supply chain management. It is a go-to choice for online retailers who don't have the means of storing, packing and shipping their products. By leaving the fulfillment process to a 3PL, you can shift your focus to marketing and developing your business.
By outsourcing to third-party logistics, you can use the industry expertise, shipping network, and data insights to your advantage. You can also benefit from lower operating costs and optimized handling and shipping — while scaling your business in the process.
While 3PL eCommerce fulfillment might be a cost-effective strategy, limited control over processing orders can sometimes harm your business in the long run. Sustaining best business practices can be tricky, and you may risk brand reputation, customer loyalty, and, ultimately, your profits.
Tips for Choosing the Right eCommerce Fulfillment Service for Your Business
Finding a reliable eCommerce fulfillment service that suits your business needs is always a good idea. That being said, there are several factors to consider when choosing a fulfillment center to partner with.
Speed of Delivery
Fast delivery is a priority among many online shoppers. Let's be honest; nobody wants to wait over a month to receive their orders. And with same-day and even two-hours or fewer delivery options becoming increasingly common, eCommerce shipping fulfillment services that provide two-day delivery have started to lose their competitive edge. Modern online shoppers no longer consider these options to be fast enough. That said, longer delivery periods may divert your customers towards a faster competitor.
Location of Warehouse
Meeting the delivery speed expectations of customers by relying on massive warehouses in remote locations is easier said than done. This is where micro-fulfillment centers in urban areas come in. These micro-fulfillment-based solutions help minimize the time and distance needed for an order to reach your customer. In this case, the courier would deliver the orders one at a time instead of in bulk.
Technologies and Integrations
Technology plays a key role when choosing the right eCommerce order fulfillment partner. The right technology can allow you to send orders from your online store to the fulfillment service without additional interference from your side. Ideally, the center will also have state-of-the-art software that keeps inventory levels and order statuses up-to-date in the warehouse and on your website. And let's not forget data-tracking capabilities that show everything from customer orders in real time.
Scalability Potential
The right fulfillment partner will be just as dedicated to the growth of your business as you are. It's also essential for them to have the flexibility to adapt as your company develops while maintaining high operational standards and customer satisfaction.
Initial Costs
It's not uncommon to incur a few initial costs when partnering up with an eCommerce order fulfillment center. This is all reasonable, and you'll save a great deal of money on labor, packing supplies, and other expenses down the line. That being said, consider looking for a modern fulfillment service that carries out its operation with minimal overhead costs. This essentially allows you to benefit from low flat-rate prices.
Management of Returns
There's more to eCommerce fulfillment than just sending out orders to customers. The right fulfillment service will also help online retailers to receive returns and process refunds. A 3PL provider with adequate experience will know how to deal with returned items efficiently. They should also be able to help you come up with a return policy that doesn't affect your profits.
How to Prepare Your Products for eCommerce Fulfillment Order
If you happen to be fulfilling orders yourself, knowing how to prepare your products for delivery can go a long way. Bear in mind that in-house order fulfillment is the go-to choice for when you're new to the business and sales are still at a slow pace.
Choose the Appropriate Packing Material
Once you've decided on an order management strategy with timeliness and accuracy in mind, you'll want to choose the right packing material. Besides protective boxes of various sizes, you may also need some type of dunnage to prevent the product from being damaged in transit. This can be anything from bubble wrap to crinkle paper to packing peanuts.
Package the Product
The next step involves retrieving the products, verifying they're the ones the customer ordered, placing them into the box, and adding inserts, packing slips, or other additional packing materials before taping the box shut. The right packaging method will give your customers the unboxing experience they'll look forward to.
Label the Order
Then comes labeling the package with the appropriate shipping label. As an in-house eCommerce retailer, you'll probably be making daily trips to your local courier or post office to have your orders shipped. You may therefore need a vehicle, printing supplies, and a shipping account to buy and print shipping labels.
Ship and Track the Package
Sending your product out on its way doesn't mean your job is done. A crucial part of order management is providing your customers with tracking information that includes estimated arrival dates and any updates along the way.
Common eCommerce Fulfillment Mistakes Businesses Make
Mistakes are a natural part of running a business, and eCommerce is no exception. However, certain mistakes can impede growth and even drive away customers. Common eCommerce fulfillment mistakes to avoid include:
Poor inventory management
Making use of outdated technologies
Neglecting customer service
Poor communication or lack thereof
Lack of an efficient returns processing strategy
Closure
As with any business practice, eCommerce fulfillment has its own set of processes, solutions, and models. Implementing the right fulfillment strategy can skyrocket your eCommerce business. And should you be dipping your toes into the world of online retail, getting familiar with the steps of order fulfillment can help you get started?