Team and task management are literally the two components that drive companies to either success or failure. We're lucky our two key attributes have kept us strictly on the success path, and we have gone through many tools to get to that ultimate win-win within our team.
One of the biggest challenges that teams usually face while organizing and managing teamwork online is finding the work management tools that will please everyone on the team.
Interface, ease of use, necessary features, affordability, and overall user experience are among the top factors to consider before choosing a team collaboration tool.
Having enough experience in jumping from tool to tool and switching between them, we've finally settled on what seems to us the best teamwork organizing tools.
So if your project managers are struggling with team management, this article is for you.
Get to taste The Crowdfunding Formula's secret sauce of successful teamwork which has three main ingredients – Slack, Monday.com, and Airtable.
Slack Review: What is Slack, How to Use It, and More
What is Slack
Slack has a very to-the-point tagline that is, in my humble opinion, one of the most descriptive yet simplistic ones. That tagline is "Where work happens." I don't think we could find a set of words to describe this fantastic tool any better.
Slack is where we organize/do most of our team management and discussions. It's a team collaboration tool. I like to call it a more professional messenger for teams because it's quick, free of distractions, and full of cool features.
How to Use Slack
One of the best things about Slack is that every project can have a separate workspace. This is helpful for a couple of reasons:
Teams that aren't directly involved in a specific project won't be distracted by the discussions and notifications coming from another workspace
Every project gets a dedicated workspace, meaning that all relevant documents, discussions, comments, and files regarding those projects will be there to navigate through, find, and move around easily
You can invite and remove team members from that workspace at any moment
You can easily navigate and switch between any Slack workspace, channels, or chats if needed using hotkeys like ctrl+K. This is mainly a great option for multiple projects that are active at the same time. Teams won't get confused, mixed, or distracted, and conversations will be kept strictly about that particular project.
Other than a project-specific workspace, you can have general channels for team announcements, discussions, threads, book recommendations (why not, you know), etc. You can search for channels created by others and join them, too, if they are public. If your created channel is private, only the people you invited will be able to see it.
Slack has a desktop (and mobile) app, which always pings you if there are messages in your group chats or private chat rooms. The desktop app is especially great because that means one less tab in your browser and one less distraction while working.
A lot of people use different website blockers to help with concentration and eliminate distracting social media websites.
Slack desktop app (Windows | Mac) partially solves this because if you need to send a quick message to your co-worker, you still get to do that. But because it's a professional tool for teamwork online, you don't get carried away with socializing.
But like everything, Slack isn't perfect for everyone either. Here's the tricky part with Slack that had our management team a bit skeptical at first, but proved to be a minor obstacle that we overcame.
Slack workspace always has a lot going on. The bigger your team, the more channels you have. The more channels you have, the more messages get sent through them. The more messages you get, the more you tend to check them, and the less you seem to work.
Yes, this might be a problem at the beginning if your team can't differentiate between work-related conversations and everyday chit-chatting. But to be honest, we have cut down on these minor distractions, bringing them to a minimum by identifying work priorities.
Slack is now strictly for work.
But if occasionally you want to chat for a short few messages back and forth with a team member, we'd rather have it done on Slack than Facebook or other instant messaging platforms. Always.
Last but definitely not least, Slack has multiple bots and integrations that are perfect for effective and quick virtual team collaboration.
Say you created a bot to remind your team members to do mini standup updates in your workspace. The bot will ping everyone to give a status update on their progress, and the cool part is that the bot has a personality. You can give it a name, tag, or mention it.
That way, it feels like you have a personal assistant responsible for a certain task to remind your teams about, in this case, daily updates.
Another important feature of Slack is the ability to make calls. Truthfully, this isn't as frequently used within our team, unless we're too lazy to walk around the office or grab our phones for a call, but the fact that the option exists is pretty helpful and may come in handy for other teams.
Monday.com Review: The What, the How, and the Why
What is Monday.com
Phew, where do I even begin with Monday.com? We're a leading crowdfunding agency meaning that we work on different campaigns simultaneously, involving a lot of teams, departments, and members.
Organizing such a big volume of work through a spreadsheet or any other tool we've used before, was almost impossible and definitely frustrating.
So the day our CEO, Narek, found Monday.com and brought it onto the table for a discussion, it took us literally a few minutes to decide that this was the tool we would settle for.
We've gone through so many task management tools that we almost gave up. And going back to Trello was simply not an option because with the team growing and projects getting bigger, we needed more functions, more flexibility, more… just more Monday.com.
It was fairly easy to make the transition to Monday.com because everyone was just way too excited about it. The interface, the way you organize work processes, assign tasks to team members, and track progress – it's just addicting.
How to Use Monday.com for Maximum Efficiency
The coolest part about Monday's project management tool is how straightforward it is for organizing, monitoring, planning, and working with it.
Here's what Albert, the biggest advocate of Monday.com at TCF, says about its effectiveness for team collaboration:
"What's so good about Monday.com? Everything is customizable and editable – that has to be my favorite part about Monday. It gives you the flexibility to set your own rules for your projects, which means you get to set up the logical flow of your projects and how to best plan them.
Before you use any team collaboration tool, it's important to remember that you need to have simple internal rules within your team regarding the use of that particular software. Otherwise, it won't work. Here are a few examples:
All fields need to be filled by the creator; we have Description, Creator log, Assignee, Timeline, Status, and Priority
Assignees can change the status, and task creators can close the task or reassign it to someone else afterward
Task descriptions should be as simple and explanatory as possible
TIP: use the "SMART" formula when creating a task (Specific, Measurable, Achievable, Relevant, Time-bound)
Everyone should be on top of the boards of their departments, which means all participants should take responsibility and update their tasks at all times.
My team and I have organized everything on Monday.com as follows: we've created boards for each department. Let's say we're running 3 campaigns at the same time. In that case, we're creating a group on the board for each campaign.
This means that each department will have 3 groups on each board. To be more specific, we have a Social Media Marketing department board, and in there, we have 3 groups – Project 1, Project 2, and Project 3.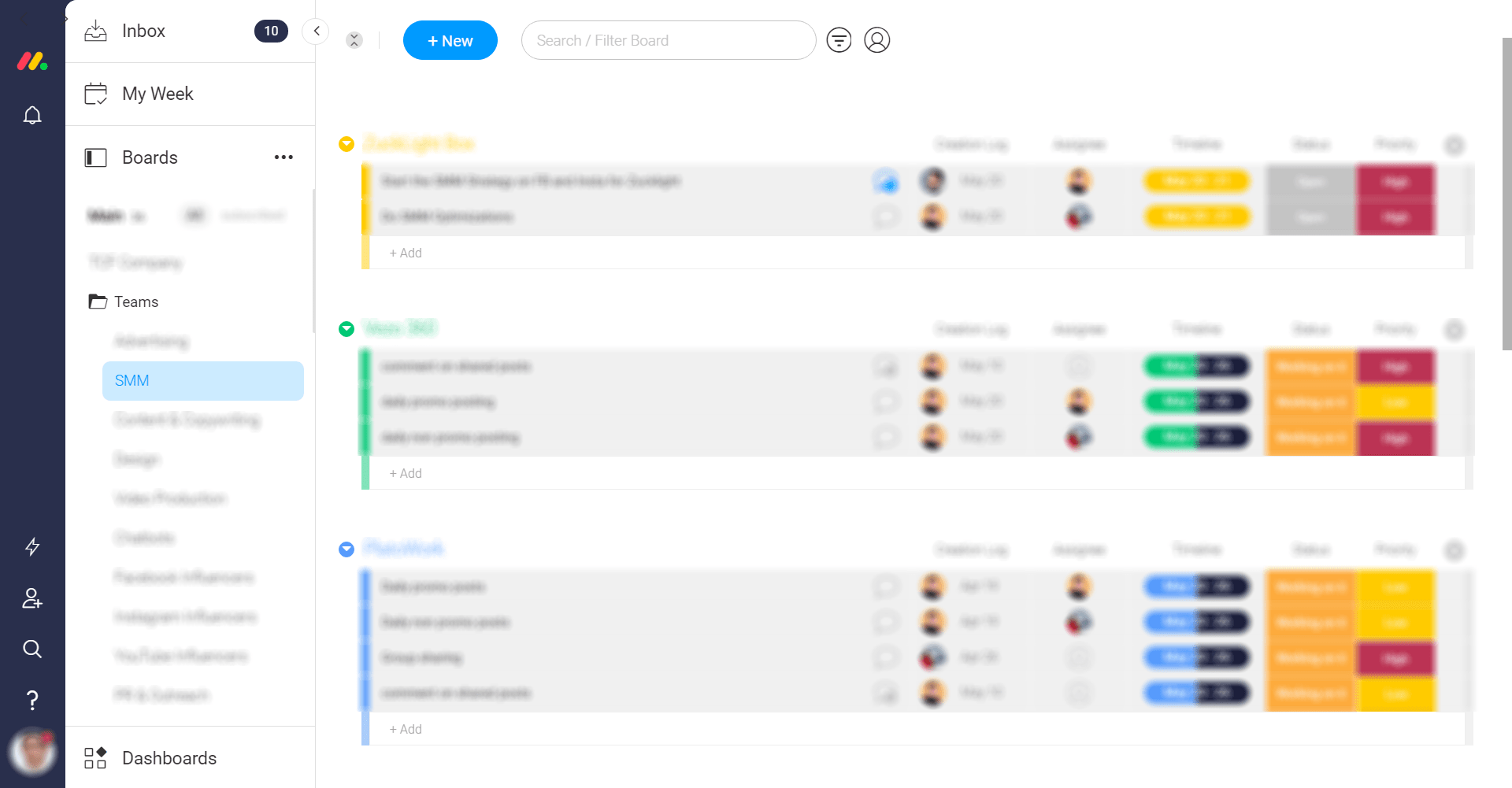 In each group, PMs or department heads create tasks for members.
Apart from the obvious benefit of increasing team efficiency, using the perfect task management and team collaboration tool gives the skillful project manager the ability to keep everything organized.
It helps us see the bigger picture and be flexible with details when needed. But we aren't the only ones that love this tool. As Nate Travers from Rendered pointed out in one of the interviews for Monday.com, finally clicking it all to green, and marking all your tasks as done, is probably one of the most gratifying moments of the day.
This definitely seemed to be the case with our team as well.
NuovoTeam Review: What is NuovoTeam, How to Use It, and More
What is NuovoTeam
Ever imagined using the functionality of Push-to-talk without using legacy walkie-talkie devices? Sounds like an emerging technology for your business? Meet NuovoTeam, all-in-one productivity, communication, and engagement suite mimicking the up-said functionality straight into the smartphones after seamless integration.
By using NuovoTeam, organizations can quickly and easily connect with their field workers via Push-to-Talk (PTT) feature to give or receive updates, share protocol standings, offer assistance in an emergency, etc., among other functionality.
How to Use NuovoTeam
A suite of integrated features available in NuovoTeam Push-to-Talk can improve the productivity of work-on-the-field teams in industries such as logistics, shipping, hospitality, construction, manufacturing, healthcare, etc. NuovoTeam facilitates the management and tracking of non-desk employees through a single app efficiently and economically.
How to Mimic Your Smartphone Into a Modern Walkie-talkie via NuovoTeam?
Go to the Play Store or App Store (as per your smartphone operating system) and search for the NuovoTeam app.
Download and install it on your device. (Make sure you are connected to a reliable network)
Sign-up and add/import contacts.
Experience modern walkie-talkie functionality in your smartphone.
Features that NuovoTeam Extends for Administrators and Teams Are:
Establish instant Push-To-Talk (PTT) communication with your Android or iOS smartphone to mimic the functionality of traditional walkie-talkies.
Obtain real-time location information of your workforce on the field.
With the clock-in/clock-out feature, you can track the productive hours of your employees.
The PTT app can help to ensure seamless team communication without outside intrusions. Consolidate and import all organizational employees into the app.
Stay in touch with your workforce by communicating in mass and broadcasting alerts and important announcements.
Create Public/Private Channels to meet the communication needs of the on-the-field workforce to ensure their organization's mission is carried out to the best of their knowledge.
With Media collaboration, you can securely transfer mission-critical business data and documents to the remote workforce so they can be accessed when and where needed.
Team communication can be enhanced with NuovoTeam's Push-to-Talk app. Providing ultrafast communication between teams during mission-critical task execution through a clutter-free interface and an easily accessible PTT button makes it an ideal tool for team communication throughout the organization.
Chisellabs.com Review: The What, the How, and the Why
What is Chisel?
Hey there! Have you ever struggled to keep your product management tasks organized and aligned with your team's goals? It can be a real headache, but luckily there's a solution out there that can help streamline the entire process. We are talking about Chisel – the product management software that makes it easy to create roadmaps, collect customer feedback, and ensure team alignment.
The software makes ensuring everyone is on the same page easy. You can set goals and objectives, assign tasks to team members, and track progress in real-time. Plus, the collaboration tools make it easy to communicate with your team and keep everyone in the loop. This is achieved by providing a clear view of the product's progress and the individual tasks each team member is responsible for.
How to Use Chisel
Chisel offers a feature called Team Radar that helps guarantee the triumph of your product by ensuring that every team member has a voice and is aligned with the same goals. This feature provides four different and interconnected views that enable you to assess and comprehend your product more effectively. It all facilitates seamless collaboration.
One of the views provided by Chisel's Team Radar is called "Your Score," which allows you to assess each feature of your product individually and provide additional comments, if necessary, to explain your rating.
Another view available in Chisel's Team Radar is called the "Alignment Matrix." This view compares the scores of different product features and the ratings assigned to them by team members. By doing so, it provides a visual representation of which features should be prioritized based on their importance and the level of agreement among team members.
Chisel's Team Radar includes the "Team Participation" view, which enables you to see how team members have rated each feature. Moreover, this view allows you to request feedback from specific individuals who have yet to evaluate certain features, guaranteeing that every team member is actively participating and that all features receive thorough assessments.
WebWork Time Tracker Review: What It Is, How To Use It, and More?
What is WebWork?
WebWork is a time tracking and employee monitoring software for companies and remote teams with the following features: time tracking with screenshots, attendance monitoring, task management, communication channels such as team chat, and many more.
The purpose of WebWork is to boost productivity and reflect how employees work. WebWork is suitable for all job categories, including remote employees and freelancers.
How to Use WebWork?
Your next step is to invite your team members. Once you register, you should create your workspace. Once you finish these activities, employees can start tracking their time and tasks. After this, reports will be available for owners, executives, and project managers to estimate employee performance.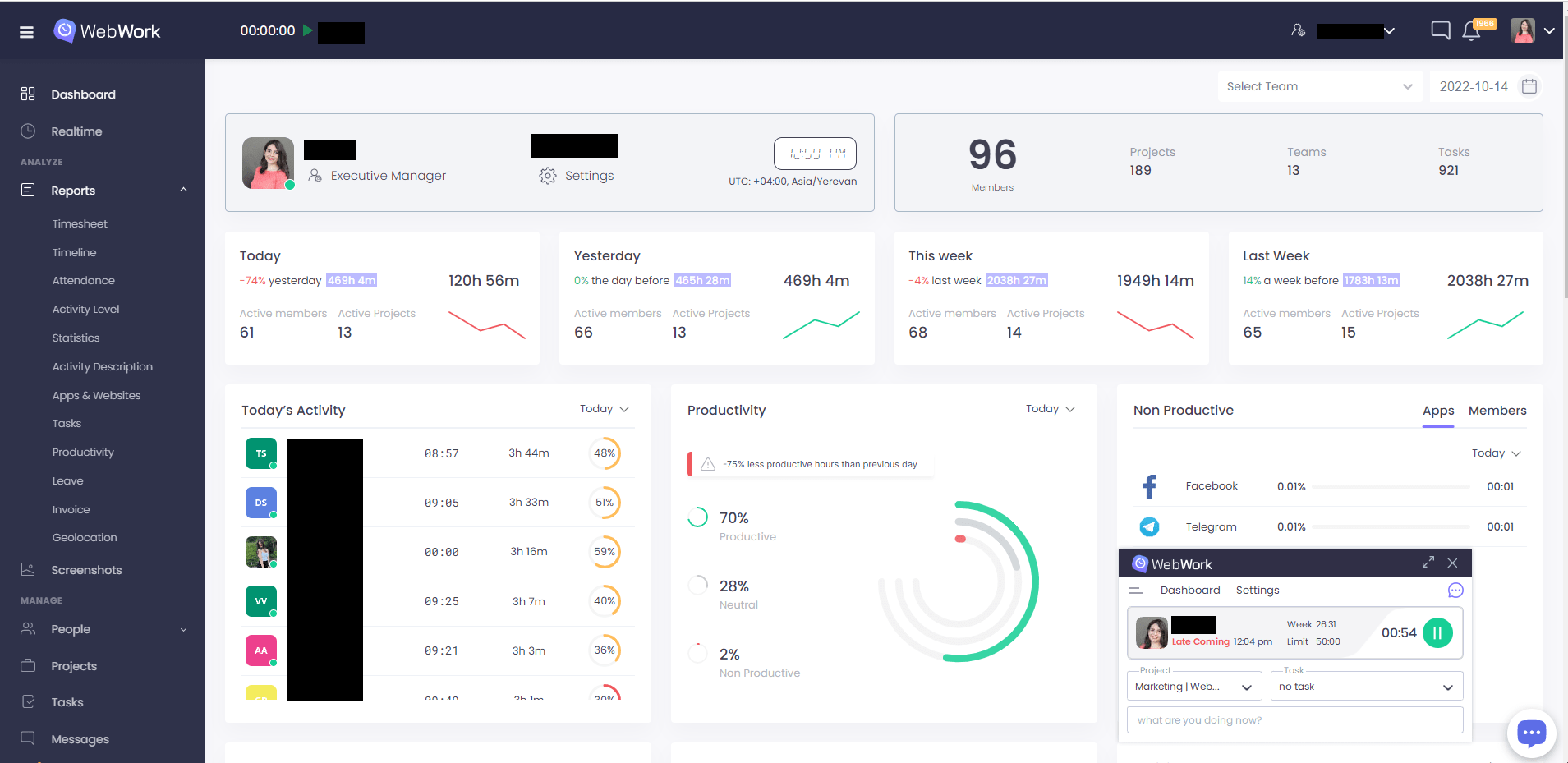 How Do Screenshots Help You See the Work Process of Your Team?
Screenshots show whether your employees work or not. They prove whether your employees work and use relevant websites and apps for them or not. There are four screenshots:
Screenshot mode B
Background mode
Blurred mode
No screenshot mode.
How Does the Productivity Level Help Your Employees
Your employees may often get distracted and tend to pay attention to non-work related things. As a result, the productivity level decreases and impacts employee performance. Due to WebWork, you can track your employee productivity level and see whether they spend enough time and effort on mandatory tasks. The productivity level is visible when you enter the dashboard, then choose the productivity level section to see everything by colors and percentage levels.
Inactivity Percentage Shown in Apps & Website Usage
Inactive Percentage shows how much the employees are inactive during the whole time of tracked hours. It shows the employee productivity level, and you can then estimate employee performance. In addition, it allows you to see what apps and websites the employees spent their time on, and you can also see the percentage level through filters, whether high or low. Later in the productivity section, you can see your employees' amount of active time.
Why Use WebWork?
WebWork is a great software that allows you to monitor your employees by time tracking with screenshots, app & website usage, and activity level features. With the help of these features, you make sure that your employees are on the right track and that their productivity level is high.
Airtable Review: Looks Like a Spreadsheet, Acts Like a Database
What is Airtable
Think of Google Sheets, but better. So much better that I regret making the comparison in the first place. Our search for Airtable began by trying to find alternatives, then turned into Airtable vs. Google Sheets query, then we realized they weren't even comparable.
I personally love Google Sheets for less complicated lists and tasks. But as far as sales and CRM, different databases, content planning, and other activities go, there is no tool like Airtable. Here is another impressive solution we suggest for you to manage official tasks perfectly by including a CRM option inside your business.
It takes spreadsheets to a whole new level with its features and ability to personalize for your team.
How to Use Airtable
Our sales team loves this online spreadsheet because it's very user-friendly, and there are endless options to adapt your lists to your needs. Yes, there's no need for you to do the opposite. Airtable gives you a lot of flexibility in terms of spreadsheet organizing and customization.
In my opinion, one of the best ways to use it is for clients' databases and status updates.
Create tags and labels, and add multiple options.
If you need to put a contact person, just create a template for contacts with all the necessary information, and instead of scrolling right to get to your required section, just take a look at the mini-contact profile with all the fields you find necessary.
Create custom tags to indicate different stages of the progress, put dates, or assign them to different team members. This way, you'll easily filter by any section you want.
My absolute favorite thing about Airtable, though, is that you can change how your spreadsheet looks.
Maybe you want to throw a glance at your entire past month. In this case, just change your Airtable workspace into a calendar view.
If you feel like dragging and dropping the cards like in Trello, change it to Kanban view.
When working on adding new contacts to the sheet, go ahead and change it to Airtable forms, and it might make the process easier for you.
Create as many fields as you need, preview your online spreadsheet, and customize it how you want. Airtable project management is a great alternative for any other conventional spreadsheet you've been used to but didn't know how to replace.
You can also use an alternative tool – such as Coupler.io, to pull your data from various apps to Google Sheets on a set schedule with no coding required. For example, you can connect BigQuery to Google Sheets with this tool.
Mix and match to see what weekly work schedule template suits you best.
Managing teamwork online is not an easy task because, for one, you need to keep people accountable for their assignments. Two, you need to keep them organized and on track for deadlines, and three, perfect tools to help with everything at once don't exist.
However, almost perfect tools that give you a complete helping solution do. And Slack, Monday.com, and Airtable comprise our favorite team collaboration tools package. So if you see your team having a hard time organizing and managing teamwork online, give these project management tools a try.
Keep exploring The Crowdfunding Formula and learn how we brainstorm.