First-time crowdfunding creators have a ton of questions. They range from how-tos to whys and beyond. But we'll address one specific question today: how to transition from crowdfunding to eCommerce and how your crowdfunding campaign can help you build a successful eCommerce business.
Having smoothly moved dozens of crowdfunding projects into eCommerce, we've gathered all the essential information in one article.
We'll talk about how crowdfunding can impact your eCommerce efforts, how to utilize all the resources acquired during the crowdfunding campaign, the differences and challenges in eCommerce management, and successful examples.
We have a lot of ground to cover, so let's get right to it.
How Does a Crowdfunding Campaign Impact Your Future eCommerce Business?
One of the most frequently asked questions by all creators is how running a crowdfunding campaign can later help in the crowdfunding to eCommerce transition. The simple answer is that it helps a lot in multiple ways. Let's discuss each.
Think of Crowdfunding as Your Test Drive
Whether or not you initially planned on taking your product to eCommerce, there are many benefits to running a crowdfunding campaign for that exact product. First and foremost, this is your best chance to test out multiple strategies, messaging options, targeting, and more.
Crowdfunding backers are early adopters, a community that won't hesitate to give you ruthless and honest feedback on improving your product.
Crowdfunding is also where you can get an excellent idea of your pricing strategy and make calculated decisions for the future. If backers are willing to pay X amount for a product that hasn't even hit the market, imagine what consumers will be ready to do once you go to mass production.
When it comes to hearing customer feedback and adapting your product accordingly, nothing beats the crowdfunding experience. At the time of your campaign, it is evident that your product is in the preparation stage, meaning that you are flexible in making changes to give you a more competitive edge.
Crowdfunding is where you can experiment with your product, pricing, and promotional strategies and gather valuable and actionable feedback from early supporters and your mistakes.
Watch, learn, analyze, and improve.
Audience and Exposure
If you were serious about your crowdfunding campaign, you put much effort into marketing. You've gathered a list of highly-qualified leads and now have a huge backer community; you've reached out to influencers and journalists who know about your product and more.
These benefits are not to be taken lightly. Think of how much time and resources go into building a brand and getting people to trust you.
Thanks to your efforts during the crowdfunding stage of your product, you now have experience communicating your product effectively. Also, you already have an established brand and a dedicated group of people who will continue to support you in the long run. That is, of course, if you've kept all your promises and delivered your products on time.
So once you decide to transfer to eCommerce, you are already multiple steps ahead of any product that launches without going through this process. You are also well-equipped to make this transition a success.
All you need to do is utilize the resources you already have.
How to Get Your Crowdfunding Campaign Resources Ready for eCommerce Launch?
Before and during your crowdfunding campaign, you are likely to have created and gathered a lot of resources that will be very helpful for you even after crowdfunding. For example, while launching your eCommerce store. This section will discuss what assets and resources you can easily repurpose for transitioning into eCommerce.
Visual Assets, Videos, Promotional Materials
Visually pleasing promotional assets can go a long way in converting visitors into backers and buyers. You already have tons of materials that can be repurposed and used for your eCommerce marketing: advertising banners, social media, email banners, announcements, countdown templates, short and long-form videos showcasing your product, and more.
You can use these assets to set up your website and promote your product through all intended channels.
Email Lists
You can use multiple ways to have your backers' emails and leads you've gathered before the launch who still need to back your crowdfunding campaign.
First and foremost, the easiest step to guarantee lots of traffic for your eCommerce store is sending an email blast to your email list. Prepare them for the launch of your store, give them early sneak peeks and special offers, organize giveaways, and more.
The next important way you can use your existing list of emails is by targeting them through advertising. You can upload your list directly or use it to create lookalike audiences – people with similar interests and purchasing behavior to your already-existing list.
It highly increases your chances of a successful transition from crowdfunding to eCommerce.
Social Media Channels
Many businesses must start from zero and build a social media presence when opening an online store. Luckily, you've already gone through this process and have a solid presence on social media platforms with a dedicated follower base. It already takes off the burden of having to create these accounts and work on collecting followers.
You will likely link these social accounts on your soon-to-be website, and it's better if new visitors see pages that have been active for a long time and have good engagement.
Social media is a crucial part of building trust in your brand.
Lists of Relevant Journalists and Influencers
PR and influencer marketing include the mundane task of extensive research and multi-approach outreach. However, with a successful crowdfunding campaign in your arsenal, you have either appeared on many leading media outlets and influencer posts or accumulated lists of the right contacts to contact.
If your product is innovative and has succeeded in crowdfunding, many people will expect to see it online on a larger scale. This means announcing your eCommerce launch through PR and influencers will significantly boost you.
You can use the lists of journalists and influencers you have gathered or collaborated with during your campaign. The best part is you can outreach them way after your launch, or rather, every single time you have exciting updates and campaigns planned for your product.
5 Key Differences in Crowdfunding and eCommerce Campaign Management
After running a successful crowdfunding campaign, it's easy to get all tangled up in understanding the difference between crowdfunding and eCommerce, as in raising money for a product and directly selling it to visitors.
It's no wonder; the two have many similarities when you look at things from the promotional aspect. However, they could have been more similar regarding managing a crowdfunding campaign than working in an online store.
This section will discuss the main differences between managing both, which will prepare you for a smooth transition.
Backer Psychology is Different from Direct Buyer's
The first most obvious yet often overlooked aspect is that a backer and a buyer are two very different categories of people. A backer cares about your project, idea, and effort behind the creation. A backer wants to support your creative process and be part of something not available yet. They don't mind the wait, understand the risks, and they offer their money to you regardless.
A direct buyer is an opposite. They pay for a product that meets their needs and solves their pain immediately. They are willing to wait only as necessary, will be more forgiving if shipping dates fluctuate, and need more time to be ready to risk not getting the product for lack of success.
With this in mind, managing both categories of visitors will also differ. The promises you made during your crowdfunding campaign and your approach to convincing them to trust you are unlikely to work the same with online shoppers.
The Idea Behind the Product vs. the Finished Product
As an extension of the first point, the second prominent difference lies in the motivation behind the purchase or pledge. Crowdfunding backers will love the idea of your product more than they will immediately need the finished product. Being early adopters, they will give you their money primarily to ensure that your vision comes to life. Period. There are lots of serial backers who love the notion of supporting great ideas.
The direct buyer, however, wants the product itself, not so much the idea behind it. They aren't buying to support you and be part of your success but for their immediate needs.
Understanding this difference is crucial. A faulty first batch of production or prototypes used in crowdfunding is forgivable, provided you also offer stellar customer support. But in eCommerce, you must have a backup plan if your product doesn't live up to its promise.
Platform Differences and Setup
Both major crowdfunding platforms, Kickstarter and Indiegogo, have easy setups, straightforward charging, a fixed way of offering rewards and perks, and limited marketing tricks up their sleeves.
With eCommerce platforms like Shopify, Wix, WooCommerce, or another provider, your possibilities for any, and we mean any, type of customization are limitless.
Crowdfunding platforms take care of most technical aspects to make matters more straightforward. But with an eCommerce business model, you must consider your website design and UI/UX, hosting, development, maintenance, optimization, SEO, offering multiple payment methods, and so on.
As much as most eCommerce platforms try to offer a full-service package, there's a lot more you'll still need to cover on your own.
Logistics, Shipping, Customer Care
As we've already established, direct buyers will expect you to have the inventory at hand ready for shipping. Before transitioning into eCommerce, you must understand where you stand regarding production, fulfillment, and shipping matters. If not ready to go into production, state to your visitors that you're taking pre-orders, and shipping delays may occur.
Organize excellent customer support and be prepared to provide every customer with accurate information and timely response.
Your crowdfunding experience should serve as a realistic benchmark for planning production. Ensure you have established partnerships with the right parties for warehousing, order fulfillment, shipping, etc.
More Immediate Marketing Costs
Managing a crowdfunding campaign is costly, especially if you want to scale it. However, lots of people understand that if you're doing crowdfunding, then you don't necessarily have a limitless budget. So you're also going to cut costs wherever possible.
When you go to eCommerce, your main goal is to plan for growth. That means investing money in advertising, influencer marketing, paid promotions, and more.
During crowdfunding, your audience comprises smaller numbers of people because not everyone is ready to commit financially to something yet to be produced. It means the number of people who commit to buying a product that is ready to be packed and shipped is much larger. Hence, you spend more marketing dollars on promotion.
3 Challenges of Launching an Online Store After a Crowdfunding Campaign
With the key differences covered in the previous section, it's clear that there will be a lot of challenges.
The challenges you'll face as a creator include anything from product malfunctions to entering a more competitive market.
Changes in Product
Most of the time, crowdfunding backers will give you valuable feedback on improving your product. And sometimes, you must listen to them. So expect delays and changes, and give yourself the time and capacity to tackle these. Whether backers ask for more colors, sizes, or a specific feature set, you might make changes you had yet to plan to take months before you launch your crowdfunding campaign.
Launching an online store after crowdfunding means being 100% sure that your product is final and functions as intended. We won't tire of repeating that direct buyers will not be as forgiving as crowdfunding backers should errors occur.
More Competition
Crowdfunding is a relatively competitive field. However, whatever new creation you bring to the crowdfunding platforms, expect to meet a more significant rivalry in eCommerce.
With online shopping, the power resides where a stronger and more experienced brand is. They might not have your exact product, but instead, they might have your target audience's loyalty. Unless you're a crowdfunding creator with an established brand and going to eCommerce is a drill, prepare to face much fiercer competitors.
Finances
Crowdfunding aims to raise enough money for production and to cover the fees and marketing costs spent during the campaign. Here, additional profit is not necessarily the end goal.
eCommerce is the opposite. Assuming your inventory is up and running, you can't operate an eCommerce business with low margins. That means only cheap out on marketing and planning for margins that allow you to cover all your costs comfortably and earn.
Crowdfunding to eCommerce Examples
Now, this isn't our first rodeo. But it might be yours. So we brought some of the best experiences of brands that went from crowdfunding to eCommerce after a successful campaign.
Poopail
Poopail is the best 2-in-1 solution for picking up dog poop hassle-free. It's an easy and fun little scoop designed to pick up and store dog waste for up to a week. The campaign launched in 2021, raising $522,018 from 5,923 backers. After the successful crowdfunding campaign, the product is now available for online shoppers at the company's website.
All the crowdfunding assets created and gathered during the campaign helped to prepare solid ground for Poopail's smooth transition from crowdfunding to eCommerce.
Ferro Watches
Ferro & Company creates exceptional watches made from Swiss and Japanese movement parts and sells them at an affordable price range accessible to many. The company launched several crowdfunding campaigns, including the Le Mans-inspired racing watch, raising over $350,000 from 1,100 backers.
Gaining lots of experience and learnings from crowdfunding, the company is now successfully selling its watches and complementing accessories.
EnjoyTheWood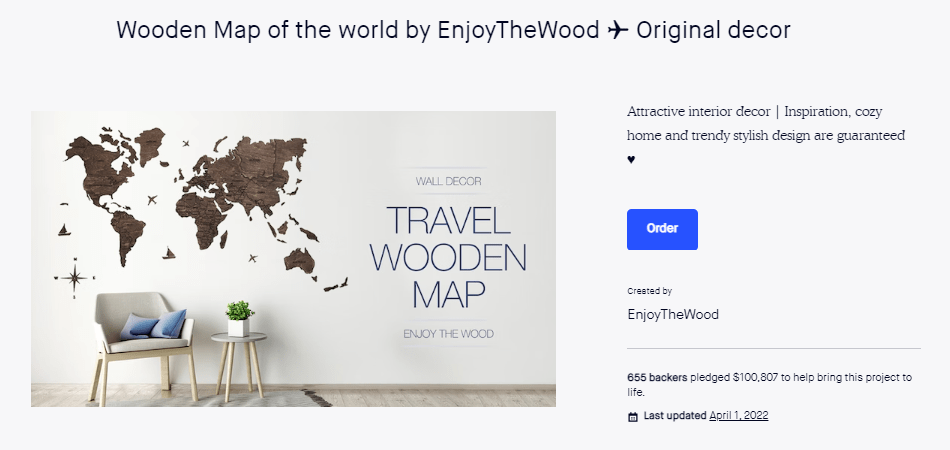 EnjoyTheWood is a Ukrainian company that makes wooden wall maps and other accessories from birch plywood. The company has run eight successful Kickstarter campaigns, raising from $100,000 to over $800,000.
Having established a successful and reputable brand identity, EnjoyTheWood thrives in eCommerce. It is an excellent case for creators who want to take their ideas from a crowdfunding campaign to a profitable eCommerce business.
Conclusion
All in all, crowdfunding is an extremely powerful trampoline. It enables and equips product creators with the tools and support to bring their ideas to life. And transitioning from crowdfunding to eCommerce is the next logical step of the journey.
Having gone through the experience of raising funds for a product that doesn't exist, creators possess wider knowledge of the challenges of entering the eCommerce industry.
Our most significant advice for a successful transition into eCommerce is to effectively use all the resources and assets gathered during your campaign. Your backers are the people most prone to helping you succeed further. The marketing materials have already put you multiple steps ahead of the competition. Your brand exposure has given you credibility. And you know how to communicate with customers effectively.
Here it is, the formula behind the success of crowdfunding to eCommerce transition of many brands. And yours should be next on the list.