What do the most funded Kickstarter projects have in common? Why were they so successful in raising money from backers? In this article, we will take a look at some of the most funded Kickstarter campaigns and try to determine what made them so successful.
With our +100 team of crowdfunding experts currently working with us at TCF, our collective experience will guide you to understand what made these campaigns so successful and offer advice for campaigners who are looking to launch their own project. So, without further ado, let's get started!
The 15 Most Funded Kickstarters
1. Pebble Time – Awesome Smartwatch, No Compromises
Creator: Pebble Technology
Backers: 78,471 backers
Goal: $500,000
Amount Raised: $20,338,986
Anything Pebble made seemed to be gold. After all, they have three watches on this list of the most funded Kickstarter projects. After making a series of very successful smartwatches, they were seen as the company trying to compete against the big players like Apple and Samsung.
But even though they had initial success, it seemed like the demand for smartwatches went down. The Pebble Time is the most funded Kickstarter ever, even though the campaign was launched in 2015. At the time, there seemed to be a massive demand for smartwatches. However, a couple of years later, they struggled with a diminishing demand and poor sales.
Eventually, Fitbit acquired them for $40M, which many saw as a "last way to save yourself" deal.
The success of Pebble seemed like a two-ingredient recipe: an analysis of the current market demand in tech and the ability and desire to make high-quality products. You should learn as a creator, though, that demand changes.
No matter what product was popular last year, there are already 100 companies trying to fill this demand. To make something truly successful, level up your research to find out what the people want. And remember, if you keep coming up with the same type of products, make sure they are modified to meet the future demand.
2.  COOLEST COOLER: 21st Century Cooler that's Actually Cooler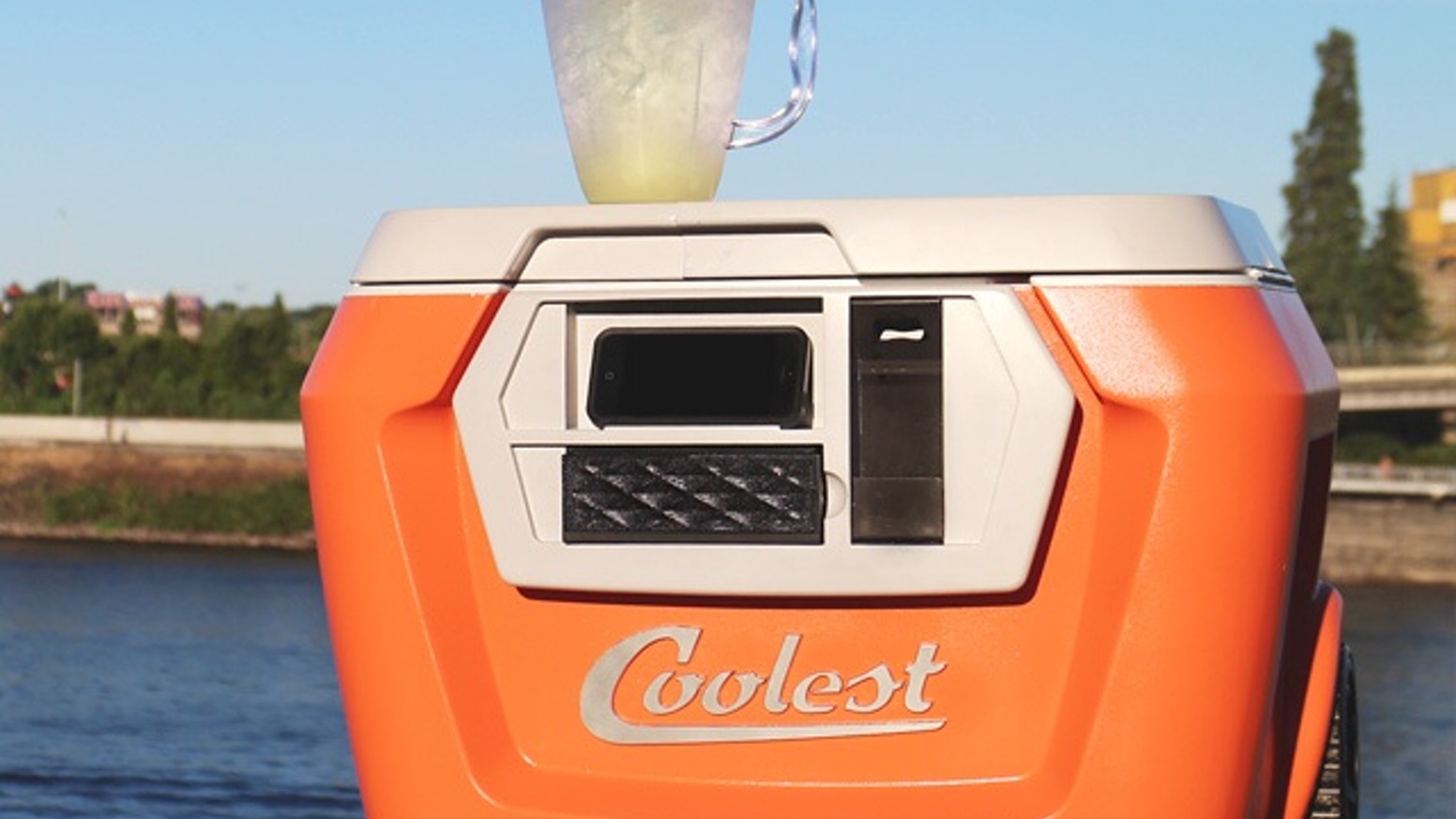 Creator: Ryan Grepper
Backers: 62,642
Goal: $50,000
Amount Raised: $13,285,226
The Coolest Cooler collected an amazing $13,285,226 from 62,642 backers. Being a drinks cooler with so many added functions like a blender, speaker, charger, cutting board, bottle opener, and more seemed simply too good to be true.
And it was too good to be true (even though its the second most-funded Kickstarter project)
See, this was a classic crowdfunding campaign mistake of a team of people building a prototype they love that works but vastly underestimating productions costs. A product like this is not hard to make from a technical perspective – but it's hard to make many of them at a low cost.
Eventually, they ended up not shipping leaving 62,642 backers very disappointed, and alternatives were sold by others on amazon some years later.
3. Frosthaven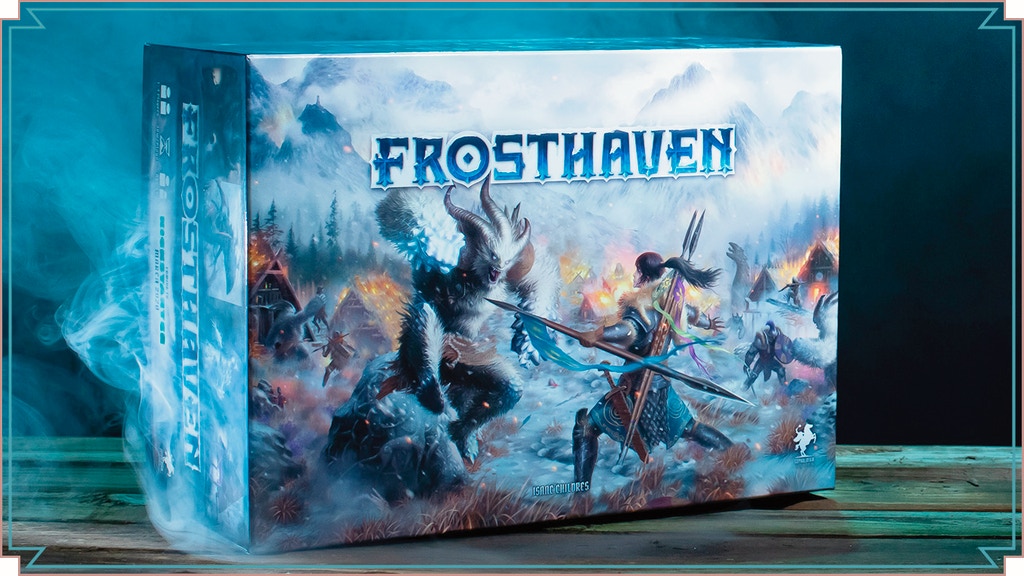 Creator: Isaac Childres
Backers: 83,193
Goal: $500,000
Amount Raised: $12,969,608
At $12,969,608 backed by 83,193 backers, this is the most-funded Kickstarter project in the board game category. The Kickstarter ended the 1st of May 2020 and is still ongoing, and no units have shipped yet.
Many Kickstarter campaigners receive a massive backlash of angry comments if they ship late, but the majority of the backers of Frosthaven are politely waiting. Usually, every backer or crowdfunding expert would say, "if it hasn't shipped now, it will never ship." But we were happy to see such fantastic community support for the creators of Frosthaven.
Some would say it has something to do with the board game community, but it is the fantastic, honest, and transparent communication by Isaac Childres (the creator). He recently published his 100th update and is always in contact with the backers, even through mistakes and hardships.
Creators, look and learn how to nurture a Kickstarter community. His previous expertise in making board games also did give him credibility.
4. Pebble 2, Time 2 + All-New Pebble Core
Creator: Pebble Technology
Backers: 66,673
Goal: $1,000,000
Amount Raised: $12,779,843
As crowdfunding enthusiasts, we still get sad when we see the past Pebble campaigns knowing they failed and had to be acquired by Fitbit.
We don't have anything against Fitbit, but Pebble's core desire to create something new was evident in their campaigns. The Pebble 2 dual launch of two smartwatches was remarkable and raised $12,779,843 making this the 4th most funded Kickstarter in history.
The best part for me is letting users transform their smartwatch into a running device and a hackable keychain computer. Talk about innovation!
"Pebble just re-invented the iPod Shuffle, and it runs Spotify" was said by Chris Mills from BGR and it summarises the excitement of the media when Pebble 2 launched.
The lessons we learn from Pebble are many, but the core thing to focus on here is effectively integrating software and hardware to meet the proper demand. True customer focus removes the tech-lover tendency to say, "no, we'll build the solution ourselves" instead of integrating with Alexa, Spotify, and running apps like Pebble 2 did.
Just because you are a crowdfunding creator doesn't mean you shouldn't utilize already-existing technology out there that users love and use.
5. Kingdom Death: Monster 1.5
Creator: Kingdom Death
Backers: 19,264
Goal: $100,000
Amount Raised: $12,393,139
The 5th lesson from the 5th most-funded Kickstarter project is damn important. To sum it up, we want to call the advice "remember that backing is not buying." Too many crowdfunding creators only see crowdfunding as people buying your product early on, so you don't have to find investments to make your product.
But crowdfunding is so much more than that. The main benefit is getting a community that shares your vision and is ready to help you build it.
As the creator of Kingdom Death: Monster 1.5 beautifully said himself: "Initially, I brought the concept for Monster to Kickstarter in order to make a far-away dream into a reality. The runaway train of success helped pack the game with more original art, in-depth gameplay, and fantastically sculpted minis than even I dreamed of. A game this size could not feasibly be made without the community of supportive backers we found on Kickstarter. It's too expensive to produce and too vivid for distribution."
He then continued: "Through the experience of kickstarting Monster, I found a group of people that shares my vision for a blisteringly difficult game with a continually emerging story. I am truly humbled to share it with the world."
THAT'S the strength of crowdfunding. Your backers are invaluable to you, your product, and your future success. So creators, please, invest time listening and communicating with your backers. If you do, your product will for sure be one of the most funded Kickstarter projects.
Identify some first backers who are active, make a list of 5 questions about your product they should think of, and invite them to a zoom meeting to talk about it. That's it. Done.
It doesn't matter if your English isn't fluent – backers don't care.
6. EcoFlow DELTA Pro: The Portable Home Battery
Creator: Eco Flow
Name: EcoFlow DELTA Pro: The Portable Home Battery
Backers: 3,199
Goal: $12,179,651
Amount Raised: $100,000
It doesn't matter how much of a detail-oriented nerd you are; if you see four review videos at the top of a Kickstarter campaign – you automatically believe the campaign's credibility.
Few campaigners know how vital influencer marketing is in crowdfunding. Having people review your product is invaluable to your campaign credibility and organic promotion on YouTube and social media. If you need help with influencer marketing, check out this great blog we made on the topic.
We understand that few campaigners have more than one prototype to distribute, yet you have no idea how much strength a pair of additional prototypes may give your campaign.
Even though many of the campaign's reviews are sponsored, the material appears to be very genuine, and it demonstrates the concept even stronger because many of the critics actually try out the goods.
As a campaigner, there are a lot of skeptics who shit on your product. There's even a subreddit dedicated to this. If you want to make your campaign bulletproof: invest, make prototypes, send them to influencers, and smack the reviews on the campaign page before you start your campaign.
If you believe your product wouldn't survive a review from an honest campaigner, you should probably dedicate time to improving your product before launching the campaign. Kickstarter will throw you off the platform if you don't have a working prototype.
7. Travel Tripod by Peak Design
Creator: Peak Design
Product Name: Travel Tripod
Backers: 27,168
Goal: $500,000
Amount Raised: $12,143,435
For the 7th most-funded Kickstarter project you might not expect us to give the advice we are about to give. Especially since it's a campaign by a group called "Peak Design." But what makes this campaign page stand out is impeccable copywriting.
Many campaigners think that a good product markets itself, but that is wrong. Thousands of crowdfunding campaigns are created yearly, and the attention span of backers is diminishing.
You need a convincing campaign page – even if you already have a fantastic product.
One of the first sentences is "so why redesign the tripod?" which we think is simply copywriting genius. Backers are not buyers, so they care equally about what exact problem this product solves and why it is competitive and disruptive to the current market.
Remember, backers are first-movers ready to take some risky investments to receive a product that beats all the traditional producers potentially. So starting a line with "questioning authority" is an amazing way to hook the audience of Kickstarter.
They established credibility for themselves in one and a half lines and gave the two most core features that made the tripod stand out.
That's the second copywriting tip: less is more. Don't try to say that your tripod is the absolute best, most feature-packed thing in the world. Focus on what it does well and highlight it.
Maybe it will not convince all tripod users, but the people who need something compact and lightweight will be all ears. Understand that your product feature limitations can be a unique strength.
8. Critical Role: The Legend of Vox Machina Animated Special
Creator: Critical Role
Product Name: The Legend of Vox Machina Animated Special
Backers: 88,887
Goal: $750,000
Amount Raised: $11,385,449
Many people may find it challenging to comprehend what we might learn from the 8th most-funded Kickstarter project if it became famous mostly because renowned personalities created it with an established audience.
However, the lesson learned can be precisely the reverse. Even if you are a seasoned creator, don't hesitate to use crowdfunding to generate a product. Second, why not collaborate with a seasoned maker OR (even better) a group of enthusiasts with a social media following to help market your product and become part of the face of it?
This would be a big and scary step across just "influencer marketing." It would be finding a successful YouTuber/social media personality and outreaching them, giving them a percentage of the income if they become your "face partner." Of course, in exchange, they'd have to have the ability to tweak the product together with you.
Over 10 of the 30 most funded Kickstarter campaigns were made from already famous first-time creators OR serial creators who became famous from Kickstarter.
9. Pebble: E-Paper Watch for iPhone and Android
Creator: Pebble Technology
Backers: 68,929
Goal: $100,000
Amount Raised: $10,266,845
Pebbleeeeeee, go away, we've already come up with two suitable lessons learned from you. We know you're a generously funded Kickstarter creator.
Ok, we still have loads of goodies to extract from Pebble. (Could that be misunderstood?)
Lesson 9: Backer updates are crucial, and they need to serve all personality types. You are doomed if you forget them (or do them half-heartedly).
Some people want the quick "we're on track" update; others wish to have a 44-page complete damn analysis of the manufacturing process. It would be best if you found a middle way to satisfy all.
We've linked to a manufacturing update from Pebble that we think they did well. It's honest and detailed but still to the point. They are open about their mistakes but still have hope, and they attached nice pictures and some jokes:
10. Avatar Legends: The Roleplaying Game
Creator: Magpie Games
Product Name: Avatar Legends: The Roleplaying Game
Backers: 81,567
Goal: $50,000
Amount Raised: $9,535,317
We have two equally essential lessons from the 10th project on our list. One is rooted in pre-production and prototyping; the second is related to the campaign.
It's a common misunderstanding that you can simply get an idea in the shower and then launch on Kickstarter the next day to see if people want to buy the product.
From looking a the campaign page here, we see that the description of the gameplay is highly detailed, which means that the game creators have developed, built, and reiterated the game countless times before making the campaign page.
Campaigners shouldn't only do this technique with board games. Tweaking your product, applying numerous changes, and making it perfect before starting your Kickstarter campaign is the only way to go, to be honest.
No, Kickstarter is not a place to sell a product before you make it. It is a place where campaigners can market a "fully functioning prototype" and, in collaboration with the backers, finish off all the extra features of the product.
The second lesson is simple: adding notable expansions and add-ons adds a special incentive for backers to buy more. This is even more true if these add-ons are commonly requested features.
This means even if you finalized your product, you should dedicate time and people to be ready to fast test and implement a new feature if you see popular demand for it during the campaign. Be flexible to changes. Backers love giving feedback and requesting features for the product – take it into account and use it as a strength.
11. TRAVEL JACKETS with 15 Features by BAUBAX
Creator: BAUBAX
Backers: 44,949
Goal: $20,000
Amount Raised: $9,192,055
The eleventh lesson from the eleventh most-funded Kickstarter project might be the most brain-bending one.
If you know how to make a product well (e.g., you're a successful jacket producer) – gain a competitive edge by expanding your product to an entirely new market.
I can assure you that if your market size for travel jackets is 10 million (we're making up these numbers), you won't only get a total audience of 20 million if you tweak your product also to include gadget lovers (~10 million). You will find a third secret market between the market of travel jacket lovers and gadget lovers to increase your total market reach to a couple of thousands more who desperately need a crossover.
Some millions of people are not a superfan of either product but will be a superfan of both. Does that make sense?
If you are a bedside table lamp producer, tap into the nightgown market by making UV-activating nightgowns powered by the bedside table lamp. If you're a skiing equipment producer, tap into the secret-alcohol-storage market by hiding hip flasks all around the ski equipment. All in all, bend your brain – bend your market.
The opportunities are endless, and Kickstarter is the only place where such mind-bending innovations can become a reality.
You can also make a mind-bending feature into an add-on or add a stretch goal but keep in mind this might backfire if backers find that feature crucial.
12. Marvel Zombies – A Zombicide Game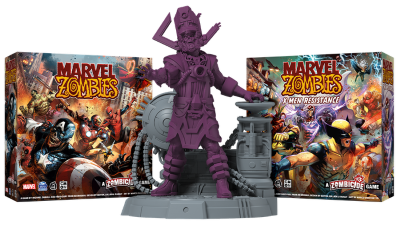 Creator: CMON
Product Name: Marvel Zombies: A Zombicide Game
Backers: 28,974
Goal: $500,000
Amount Raised: $9,032,583
Considering CMON, the creator of this project has created 50 crowdfunding campaigns, we can pretty much consider their whole page structure as general advice. Besides that, they gamified their daily reward system, and we believe it paid off big time. More on that later.
What struck me first is their insanely heavy focus on design and images on their campaign page instead of text. Many creators focus on writing text so the search engines can pick it up, but CMON has made one of the longest campaigns we've ever seen full of designs, stretch goals, add ons, game rules, etc.
The rest of the structure is a blur, but the most remarkable aspect of their campaign page is the daily rewards. Depending on what day you back the campaign, you receive a unique character in the game. This shouldn't be limited to being possible only in board games. If you're creative, you can create a lot of hype amongst backers if you set up similar structures.
13. The Wyrmwood Modular Gaming Table: Coffee & Dining Models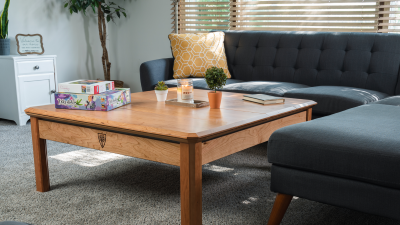 Creator: Wyrmwood Gaming
Backers: 7,713
Goal: $1,000,000
Amount Raised: $8,808,136
The Wyrmwood table is the most funded Kickstarter ever in the furniture category.
We would be shocked if the Wyrmwood team hadn't followed Kickstarter closely for some years before their launch. Because classically, their product seems like it hit two sweet spots of market research. First of all, board games are trendy in the Kickstarter community – second of all, there is an underutilized market for the board game "accessories."
The fact that 7,713 backers pledged $8,808,136 to this campaign doesn't come as a surprise to us. The product is modern and contains unique features like component organizers, cup holders, a card shelf, and a player deck.
All seems to have gone smooth except for one part. Currently, a lot of backers are frustrated with increased shipping costs. Of course, the pandemic has contributed a lot to global shipping rising in price, but it is a general rule of thumb that heavy and/or big crowdfunding projects are expensive to ship.
That means, since shipping is already one of the hardest things about doing a crowdfunding project and delivering it, you should consider any option that lets you give the same benefit to your user without having to ship heavy and/or oversized parts.
For example, the Wyrmwood team did a great job making this modern gaming table modular, so it works as a coffee table and a board game table. However, would it have been easier and cheaper to make a product that attaches to the most common coffee or dining tables models?
Imagine a modular product made to attach to the 20 most common cost-effective coffee and dining tables found in major retailers worldwide: IKEA, Walmart; you name it. Then, when people pledge, they can choose what coffee or dining table they have or which coffee or dining table they are ready to purchase and then Wyrmwood would send an accessory that fits.
Granted, part of what makes the Wyrmwood great is that it is hollow – but nevertheless, we are not giving them advice; we are giving you advice not to fall into the same challenges as other campaigners struggling with high shipping costs.
14. Exploding Kittens
Creator: Exploding Kittens
Backers: 219,382
Goal: $10,000
Amount Raised: $8,782,571
Now, if you haven't seen the trailer for this crowdfunding campaign, we recommend you do. The link is attached at the bottom of the article when you're done reading (1 product left).
The creators of Exploding Kittens got insanely famous and have since launched three other generously funded Kickstarter projects. We have played Exploding Kittens ourselves, and the game is pretty fun, but besides being a good product in itself, there is one very specific and very impactful aspect of this game that made it highly successful – humor.
See, no matter how beautiful your cinematography is, how big your advertisement spend is, and how many influencers you got to promote your campaign, your conversion rate skyrockets if you have humor in your campaign.
We believe this is for two reasons. First, humorous people are easier to trust. If someone has made you laugh a lot, some psychological defense mechanism just switches off, and you instantly trust the person or people who made you laugh.
The second reason is that the Kickstarter audience naturally is people looking for products that are unique and more uniquely marketed. It's a known fact that people hanging out on Kickstarter are generally ready to take a risk to back projects they believe in and like. If the campaign page has made them laugh, you're around 50% there. The next thing is just to make them believe in it.
You can do this in many ways, like stating your manufacturing and product creation experience, giving an overview of how far you have already become in the campaign, telling them how much you need this product yourself and want to share it with the world, or something else that is personal.
Now, not everyone is naturally funny. Simply putting elements in there that are unique "you" will help a lot if you're not. We're seeing a trend in crowdfunding and growing eCommerce businesses that the standard brands trying to be polite are declining in sales, whereas the risky and bold brands receive so much attention. An example is the mountain water brand "Liquid Death | Murder Your Thirst."
They are literally selling canned water, but their brand and voice are so unique that people buy it. Don't be afraid to be bold in crowdfunding. Being polite and by the book will make you lose sales.
15. OUYA: A New Kind of Video Game Console
Creator: OUYA
Backers: 63,416
Goal: $950,000
Amount Raised: $8,596,474
This last one is hard to compliment. Though the OUYA got praise in the beginning for being forward-thinkers, they ended up only shipping a couple of units, and the units people received were crap quality.
I mean, check out this comment from Kickstarter:
If you want to hear precisely how much the OUYA failed (together with nine other massive Kickstarter fails), you can check out this article.
Nevertheless, we have been locked in a prison of our own design by deciding to write this article. No matter how deceptive the campaigners were, we must (even though we don't want to) find a lesson to learn from this campaign.
Luckily, we found a perfect one.
Crowdfunding is excellent – crowdsourcing is incredible. But there has to be an incentive for people to contribute to your products.
What do we mean?
The OUYA was unique in that it removed the distance between developers and users, and anyone could code their games and apps for the OUYA console. In theory, this follows the crowdfunding mindset perfectly: everyone contributes without help and dependency from the big players.
The problem occurred when people finally got the console, and people just started playing around making half-hearted half-finished games for the console and uploading them – because why not? They wouldn't earn money from the games anyways.
There were also no exclusive game deals with major developers, so the project failed.
The lesson here is that you might create the hardware and software. But if you haven't defined a clear path to how to keep your project successful for your backers over time – and after all units have shipped, you will most likely fail. Remember, you are not responsible for making a product. You are responsible for solving a problem. If the problem persists even when people have received your product, you haven't met your goal.
There are many examples of crowdfunding campaigners rushing a final product into production and shipping without considering the long-term strategy for their product.
We believe all crowdfunding should be serial. If you have a great community that loves your product – you owe them and yourself to try and keep going if they want more. It would be a shame to make a one-hit-wonder and leave cause you've been granted one of the best gifts a creator can get: an audience that loves your product, believes in you from the start, and is ready to help you move forward.
Conclusion
There are loads more to extract from these most-funded Kickstarter projects, but we believe 15 lessons is enough for one article.
Hopefully, this article will help any campaigners out there looking to launch a successful Kickstarter project or people interested in seeing what makes a Kickstarter project good. As you can see, it's not all about the money – it's about building a community and keeping them engaged. Don't forget.
We prepared a cheat sheet with all the combined lessons here. Feel free to share it on social media and link us 🙂
The 15 lessons learned from the 15 most funded Kickstarters:
Do your market research – and keep doing it.
Shipping and manufacturing have hidden costs. Price your product conservatively. It will pay off.
Your backers will forgive you for all your mistakes if you communicate them instantly and transparently. They will hate you if you keep them in the dark.
Utilize already existing technology – don't try to build it all yourself.
The money you get from Kickstarter is just 40% of the prize. Your backers are worth their weight in gold.
For god's sake, make more prototypes for influencers. It pays off.
You will convince people with a few good features – not many mediocre features. Also, less is more in copywriting.
Consider joining up with a famous person to be the face of your brand. It will cut marketing and advertisement costs a lot.
Your updates to your community are more important than you think. Don't write them half-heartedly. Also, understand different people want to hear different things. Accommodate all.
Since Kickstarter backers will give you feedback from day one, be prepared to change your product and have people and time ready to dedicate testing changes. Change is not bad; ignoring your backers is.
Crazy crowdfunding products do well. Mix two markets that are not traditionally linked and earn the market that is more than the sum of its parts.
Putting a product on Kickstarter and waiting for people to back it is a 2015 technique. Utilize and gamify the reward system.
Try to avoid shipping heavy and big objects. If you can change your concept early on to prevent this, you'll avoid a headache.
Kickstarter campaigns are personal. Don't be afraid to be funny, bold, and crazy – people love it. If you're too polite, you'll lose money. Humor is free to add to your campaign and has a massive ROI if you ask us.
Think bigger than just making a one-hit-wonder. If you've successfully launched and have a group of people loving your product – you kind of owe the world to continue creating stuff you believe in.